2023 is a pivotal year for the future of professional golf. As well as LIV's first full season and investment into the Asian Tour as part of the International Series, this year also sees innovations like the PGA Tour's Elevated Events and new developments emerging from the strategic partnership between the DP World Tour and PGA Tour. The LPGA Tour and LET have both announced record prize totals for 2023.
Against this backdrop, Full Swing, Netflix's behind the scenes golf documentary, is due to launch in February, promising to introduce a new generation of golf fans in the same way that Drive To Survive has boosted Formula 1.
Uncertainty and strong opinions will no doubt continue, something identified by Sporting Insights Director Richard Payne in his 2023 predictions.
All of that is why Sporting Insights' new study of 21,000 international golfers is so crucial for anyone considering associating with different professional tours and players playing on those tours.
With distinct differences emerging in the attitude to different tours in different markets, it is important that those considering their marketing and sponsorship strategies take note.
"It was important for us to try to cut through the strong responses to golf tours that have been very apparent in recent months," Payne explains. "While those strongly-held convictions are important, and are covered within this study, we also wanted to take a look and understand at a more granular level exactly what golfers may enjoy or object to as the fabric of professional golf changes. And that word 'enjoy' is important, because while we do look at negative perceptions of different elements of different tours, we also look closely at what people do want – whether that's mixed events, match play, team play or alternative formats."
Attitudes to women's and mixed golf are among the topics covered, which also include: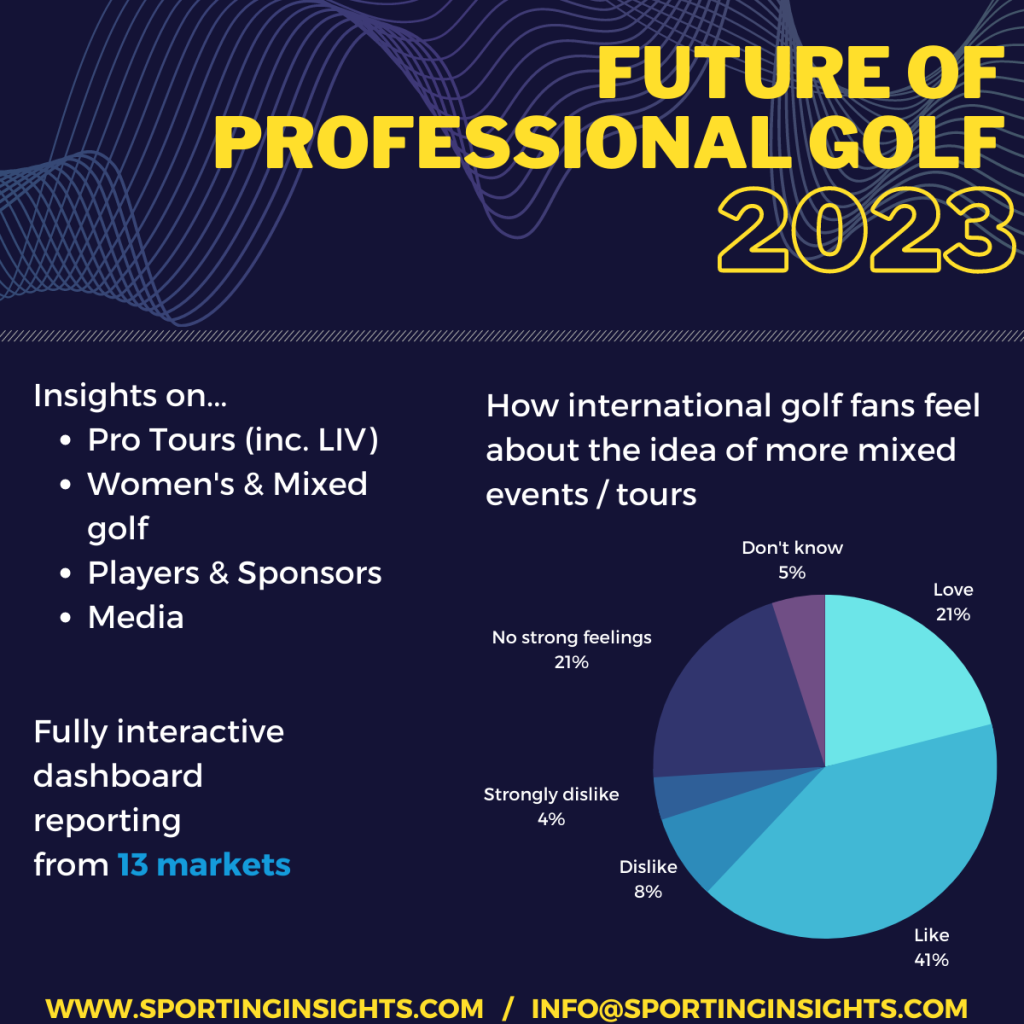 A sample size of 21,000 international golfers sourced from Sporting Insights' golf specialist partner panels makes the results robust and gives users confidence to take decisions based on the data.
Results can be split out across 13 markets.
Reporting is available through an online dashboard that makes it easy to tailor the data by market, age, gender, and play frequency – delivering specific granular insight for the markets that matter to different businesses.
Sporting insights Director Richard Payne and Head of Sporting Insights Asia Eric Lynge will both be at the PGA Show in Orlando next week if you would like to meet up and discuss how this programme, any of Sporting Insights other projects or bespoke research can help your business navigate future tides.
Alternatively, you can contact them using the details below.
Richard.payne@sportinginsights.com