Sports Marketing Surveys Director Richard Payne is excited to attend the inaugural IGTM Links event.
The IGTM Links event will take place between 20-22nd October in the form of an online conference. It has been organised to help the industry to re-group and re-connect and plan for the future of the golf tourism market. Delegates at the event will include major tourism operators, federations and resorts. To join SMS and others from across the golf industry, interested parties can register for free.
Golf tourism is arguably the area of the industry most affected by Coronavirus. SMS is focused on helping clients understand the perceptions, trends and patterns among UK and European golfers that can help the industry plan for the short-term future, while also laying the groundwork for medium and long-term growth.
Promisingly, some of the company's latest figures suggest that within six months to a year, golfers in Germany expect their expenditure to return to pre-pandemic levels, while golfers in England anticipate spending more than usual. The challenge for tourism providers will be to ensure that this spend includes golf holidays and breaks, which means overcoming concerns about safety and travel precautions.
Some challenges can be tackled by courses and hotels on an individual basis. Others are dependent on the wider travel industry and government guidelines. For example, fear of self-isolating or quarantining on return from a golf break is currently a major shaper of opinion as to whether to take a golf holiday.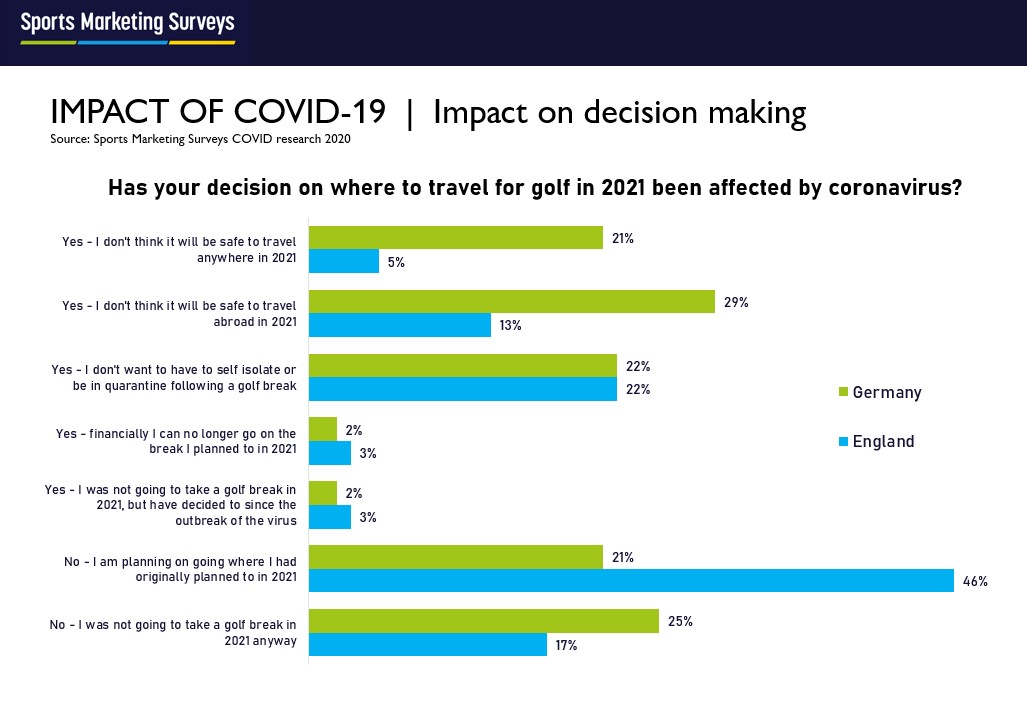 SMS has a rich pedigree in sports travel and tourism research. It worked with Visit Wales to benchmark and monitor the economic impact of golf tourism in the build up to and legacy of the Ryder Cup in 2010. It subsequently consulted with Tourism Northern Ireland to support the strategy to grow golf tourism to £50m by 2020. From a base of £33m a year in 2014, SMS' monitor calculated that Tourism NI achieved its goal with a year to spare, reaching £52m in 2019.
As well as monitoring the economic impact, SMS also works with a range of travel and tourism bodies to help interpret consumer desire. This has continued in the age of Coronavirus, with SMS research earlier this summer showing the changing patterns of domestic golf tourism in Great Britain and Ireland.
SMS has presented at IGTM events for the past decade.
Please contact Richard.payne@sportsmarketingsurveys.com to discuss how SMS can help your business set and achieve its aims in sports and leisure tourism.