[vc_row full_width="stretch_row_content_no_spaces" bg_type="bg_color" ult_hide_row="ult_hide_row_value" ult_hide_row_tablet="tablet" ult_hide_row_tablet_small="xs_tablet" ult_hide_row_mobile="mobile" ult_hide_row_mobile_large="xl_mobile" bg_color_value="#a0bb28″][vc_column css=".vc_custom_1584121803127{padding-top: 0px !important;padding-bottom: 0px !important;}"][vc_custom_heading text="Reports & Insights" font_container="tag:h5|text_align:center|color:%23ffffff" use_theme_fonts="yes" css=".vc_custom_1585929532362{padding-top: 80px !important;}"][vc_custom_heading source="post_title" font_container="tag:h1|text_align:center" use_theme_fonts="yes" css=".vc_custom_1585237383230{padding-top: 20px !important;padding-bottom: 50px !important;}"][/vc_column][/vc_row][vc_row full_width="stretch_row_content_no_spaces" bg_type="image" parallax_style="vcpb-default" bg_image_new="id^3284|url^https://www.sportinginsights.com/wp-content/uploads/2019/12/news-main-green-bac.jpg|caption^null|alt^null|title^news-main-green-bac|description^null" bg_image_repeat="repeat-x" bg_image_size="initial" ult_hide_row="ult_hide_row_value" ult_hide_row_tablet="tablet" ult_hide_row_tablet_small="xs_tablet" ult_hide_row_mobile="mobile" ult_hide_row_mobile_large="xl_mobile"][vc_column css=".vc_custom_1584121803127{padding-top: 0px !important;padding-bottom: 0px !important;}"][vc_single_image image="4369″ img_size="full" alignment="center"][/vc_column][/vc_row][vc_row full_width="stretch_row_content_no_spaces" bg_type="bg_color" ult_hide_row="ult_hide_row_value" ult_hide_row_large_screen="large_screen" ult_hide_row_desktop="desktop" css=".vc_custom_1584120950502{margin-top: -35px !important;}"][vc_column][vc_custom_heading source="post_title" font_container="tag:h1|text_align:center" use_theme_fonts="yes" css=".vc_custom_1584985812282{padding-top: 50px !important;padding-bottom: 50px !important;background-color: #a0bb28 !important;}"][/vc_column][/vc_row][vc_row css=".vc_custom_1585929565728{border-bottom-width: 1px !important;border-bottom-color: #a3a3a3 !important;border-bottom-style: solid !important;border-radius: 1px !important;}"][vc_column css=".vc_custom_1584121886892{padding-top: 0px !important;}"][vc_row_inner][vc_column_inner width="5/6″]
[/vc_column_inner][vc_column_inner width="1/6″][vc_column_text]
Reports & Insights
[/vc_column_text][/vc_column_inner][/vc_row_inner][/vc_column][/vc_row][vc_row gap="35″][vc_column width="2/3″][vc_column_text]Sports Marketing Surveys has announced a new set of reports on sports participation in the UK.
Based on a robust, nationally representative sample of 10,000 UK households, the SportActives results are designed to help interested parties better understand the volume and make-up of players of a particular sport. Buyers will learn the total number of participants in their sport, as well as how this breaks down across different ages, genders and socio-economic backgrounds.
The findings will be of interest to brands, retailers, federations or commercial partners looking to plan new product launches in a sport, target marketing spend, or support pitches to partners and potential investors.
In addition to the important demographic information, the data will help buyers understand the frequency of participation in their sport as well as the rival leisure pursuits that appeal to their players.
Reports are available for the following sports in the UK:
Gym/health club
Badminton
Basketball
Cricket
Cycling*
Field Hockey
Football/Soccer*
Handball
Gymnastics
Ice Hockey
Martial Arts
Netball
Rugby
Running/Jogging*
Skiing
Snowboarding
Squash
Swimming
Table Tennis
Tennis*
Volleyball
Yoga
More detailed analyses are also available in Running, Tennis, Cycling and Football. These sports, all of which fall inside the top 10 for sports participation in the UK, include additional questioning on the perception of the sport. For example, buyers can measure the perception of the sport as, "challenging" "good exercise", "sociable" among other descriptors, comparing the attitude of those who take part in each sport against the general UK population, representative at national level.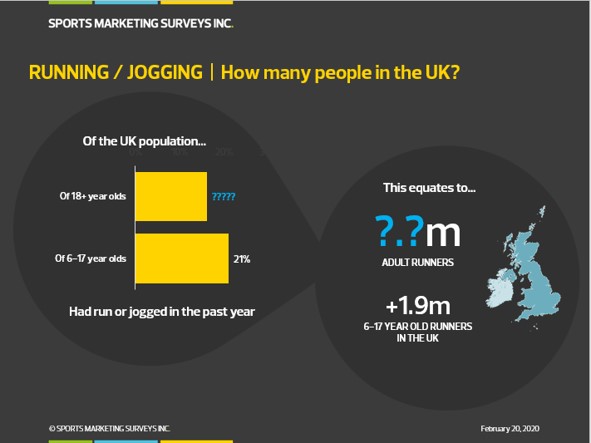 Each SportActives report covers a single sport and costs from £495 + VAT.
Sports Marketing Surveys also operates the industry leading Physical Activity Council study of participation in the USA. Reports are available for over 100 sports.
To purchase one or more of these reports, or for further information please contact info@sportsmarketingsurveysinc.com
Fieldwork was carried out with a robust sample of 10,000 UK households in 2019 to generate accurate, reliable information on the state of sport in the UK.
*More detailed reports are available in these sports. [/vc_column_text][/vc_column][vc_column width="1/3″][vc_custom_heading text="Sports Marketing Surveys also operates the industry leading Physical Activity Council study of participation in the USA. Reports are available for over 100 sports." font_container="tag:h2|text_align:right|color:%23a0bb28″ use_theme_fonts="yes"][/vc_column][/vc_row][vc_row full_width="stretch_row" bg_type="bg_color" ult_hide_row="ult_hide_row_value" ult_hide_row_tablet="tablet" ult_hide_row_tablet_small="xs_tablet" ult_hide_row_mobile="mobile" ult_hide_row_mobile_large="xl_mobile" css=".vc_custom_1584985850206{padding-top: 50px !important;padding-bottom: 80px !important;}"][vc_column][vc_custom_heading text="More News Articles" font_container="tag:h2|text_align:center" use_theme_fonts="yes" css=".vc_custom_1584984840576{margin-bottom: 50px !important;}"][vc_row_inner equal_height="yes" gap="20″][vc_column_inner width="1/2″ css=".vc_custom_1584985747534{margin-right: 50px !important;margin-left: 0px !important;padding-top: 80px !important;padding-bottom: 50px !important;padding-left: 0px !important;background-color: #f1f1f3 !important;}"]
[/vc_column_inner][vc_column_inner width="1/2″ css=".vc_custom_1584985698852{margin-right: 50px !important;margin-left: 0px !important;padding-top: 80px !important;padding-bottom: 50px !important;padding-left: 0px !important;background-color: #f1f1f3 !important;}"] [/vc_column_inner][/vc_row_inner][/vc_column][/vc_row][vc_row full_width="stretch_row" bg_type="bg_color" ult_hide_row="ult_hide_row_value" ult_hide_row_large_screen="large_screen" ult_hide_row_desktop="desktop" css=".vc_custom_1584985867190{padding-top: 50px !important;padding-bottom: 80px !important;}"][vc_column][vc_custom_heading text="More News Articles" font_container="tag:h2|text_align:center" use_theme_fonts="yes" css=".vc_custom_1584984840576{margin-bottom: 50px !important;}"][vc_row_inner equal_height="yes" gap="20″][vc_column_inner css=".vc_custom_1584985879533{margin-right: 0px !important;margin-left: 0px !important;padding-top: 20px !important;padding-bottom: 30px !important;padding-left: 0px !important;background-color: #f1f1f3 !important;}"] [vc_empty_space css=".vc_custom_1584985918509{background-color: #ffffff !important;}"] [/vc_column_inner][/vc_row_inner][/vc_column][/vc_row][vc_row full_width="stretch_row" bg_type="bg_color" bg_color_value="#141235″ css=".vc_custom_1583772993788{padding-top: 30px !important;padding-bottom: 40px !important;}"][vc_column width="4/6″][ultimate_dual_color dual_before_txt="Looking for extensive insight and strategic solutions for your organisation?" dual_high_txt="We can help." dual_color_align="left" heading_tag="h2″ dual_ba_color="#ffffff" dual_high_color="#feca31″][/vc_column][vc_column width="1/6″ css=".vc_custom_1583772953570{margin-top: 30px !important;}"][vc_single_image image="2460″ img_size="full" alignment="center"][/vc_column][vc_column width="1/6″ css=".vc_custom_1583772958281{margin-top: 30px !important;}"]