22 fights into his career, it is impossible to describe Anthony Joshua's career as anything other than a knockout. 21 of Joshua's 22 unbeaten fights have been won that way, and as he begins the process of identifying his next opponent, he does so with the boxing world at his feet. At the same time as his career trajectory continues into the stratosphere, the British born boxer is proving a magnet for sponsors. SPORTS MARKETING SURVEYS INC.'s Edward Willis and Richard Payne ponder what makes Joshua the biggest draw in boxing?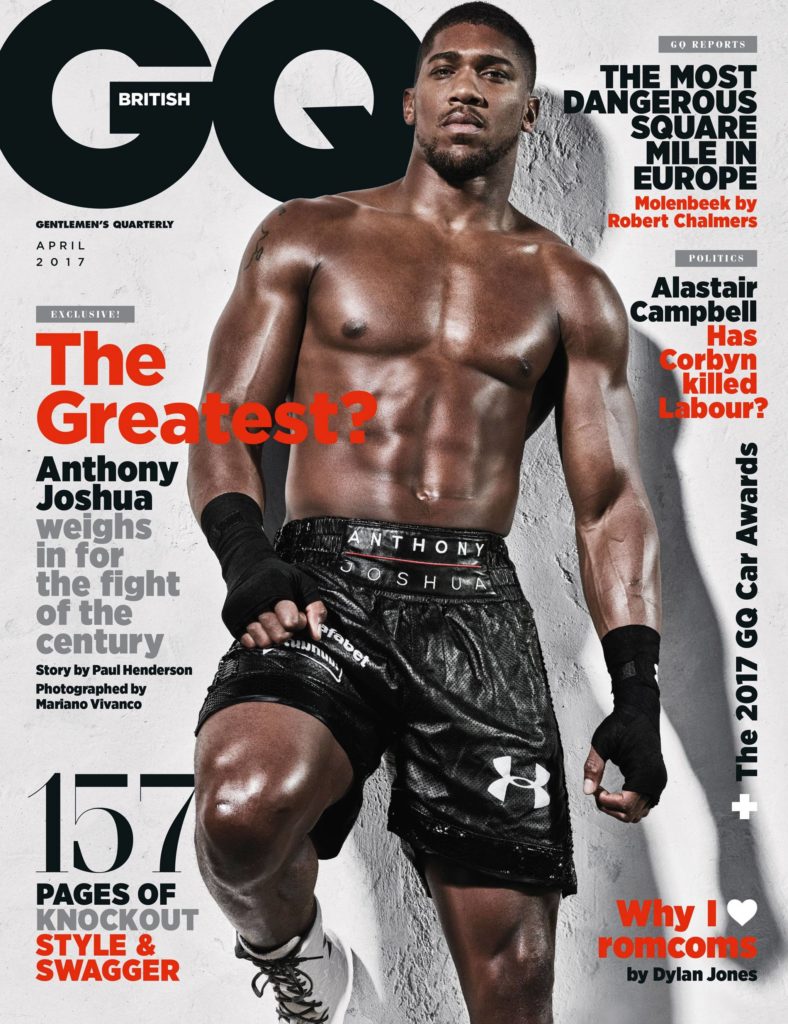 What makes Anthony Joshua so appealing to brands?
Arguably the Joshua image is even more important than the results. Naturally the two are very heavily linked and a defeat or two would be next to disastrous for brand Joshua, but an undefeated record can only take you so far. What Joshua offers above and beyond the knockouts is a clean-cut image to go with the brawn, the velvet glove worn over the top of the iron fist.
In public appearances, Joshua's biggest strength is his humility. In stark contrast from the foulmouthed rantings, or aggressive posturing that have characterised for example Tyson Fury or Connor McGregor press conferences, Joshua is a mild-mannered, polite man outside the ring. One of Joshua's first purchases when his boxing career took off was to buy his mum a house, one that he then moved back to to spend time with her after his fight with Wladimir Klitschko. The cerebral Anthony Joshua is on display in his public love of chess, a love Joshua says was inspired by Lennox Lewis. Meanwhile, on his website, a whole section is devoted to charitable giving.
He is not a saint. Before becoming Olympic Champion, Joshua was stopped by police in 2010 whilst wearing a Team GB tracksuit and found with 8oz of cannabis in his sports bag, but the experience seems to have concentrated Joshua's mind and there has been no repeat of such misbehaviour. In a way, the brand is stronger for those past transgressions, helping Joshua embody some of boxing's core values, as Joshua himself put it "In boxing, it is about the obsession of getting the most from yourself".
The physical image is undoubtedly an appeal for brands too. In and out of the ring, Joshua looks as strong as an oak, the kind of man you couldn't bring down without a chainsaw. It is the kind of image that makes Joshua look at home on the cover of GQ as he does on the back pages of daily newspapers. That appeal in turn makes Joshua an obvious choice for brands looking to appeal both inside the world of boxing, but also much more widely, to a much more diverse demographic than you might initially think. In fact, 23% of the online commentary about Anthony Joshua in the last month came from women. Geographically too, Joshua's appeal is undoubtably global. In fact, the United Kingdom accounts for only 2% more of the commentary around Joshua than the USA, whilst Nigeria, where Joshua has deep family roots and whose map is tattooed on his shoulder, accounts for the third most mentions (17%).
How has Joshua become the biggest draw in boxing?
In part, Joshua has benefitted hugely from the relative lack of contenders. His prime has coincided with the decline in prowess of Manny Pacquiao and Floyd Mayweather, and to an extent the Klitschko brothers, with Joshua beating Wladimir in 2017. Whilst Mayweather managed to earn a massive payday in beating UFC star Connor McGregor, the fight was considered a farce in boxing terms. Fighting in the heavyweight division, traditionally the blue riband event in boxing terms undoubtably helps. Of the current upper tier, many boxing fans would argue that Gennady Golovkin or Vasyl Lomachenko are better pound for pound boxers, but the prestige of the heavyweight division arguably elevates Joshua among them in commercial terms. So too, does Joshua's attacking style and power. His record of 21 knockouts in 22 fights separates him from more defensive claimants to his throne as boxing's biggest draw.
Unless you are a real aficionado, Boxing can be a convoluted and complicated sport to follow. The process of arranging fights is opaque at best, and casual fans can struggle to understand how there can be multiple champions in a weight division, or why fighters are allowed to avoid fighting other fighters. Joshua's unbeaten record cuts through some of that confusion just as Floyd Mayweather's di.
Which brands have best leveraged their association with AJ and how have they done so?
Anthony Joshua has a range of sponsors from almost every conceivable industry: Apparel; luxury watches; scent; sound; cars; drinks; nutrition; tv; ticketing; and gambling.
In the build up to his latest fight, Lynx orchestrated a successful campaign with Joshua. Carefully timing the release of their new "Lynx Gold Brotherhood" video in advance of the fight, Lynx ensured they received almost two weeks of coverage closely linked to Joshua's world title fight. This follows a pattern that Joshua has employed in the past. As part of his tie-up with Jaguar Land Rover, Joshua took delivery of his personalised £150,000 Range Rover in the week before his fight with Wladimir Klitschko.
Unlike other sports, the nature of boxing means that brands also have to be proactive in keeping their association in the public eye during training for fights, and then maximise exposure over a relatively short window during the days of the fight and build-up itself. To take AJ's latest fight, the volume of commentary online was almost entirely dependent on the 22nd and 23rd October, the day of the fight and the day after. These two days accounted for 62% of all online commentary mentioning "Anthony Joshua" in the last month.
Anthony Joshua reportedly earned $3.5m from endorsements in 2017. However, the extent of the effect that Joshua can have even in a relatively narrow window is such that it makes the relationship worthwhile for brands and partners. Back in 2016, Essex based business Texo Scaffolding won the rights to sponsor AJ's IBF title fight against Charles Martin in the 02 Arena. Texo owner Robert Hayward commented at the time that such was the power of Joshua that the website nearly crashed with the unprecedented volume of website traffic. Meanwhile, major sports equipment firm Under Armour clearly liked what they were seeing, extending their deal with Joshua in 2017 well before the contract was due to expire.
What are the risks for brands involved in AJ and boxing more widely?
Boxing is a fickle sport. One loss or even a few underwhelming wins could be enough to forever taint brand AJ. In the heavyweight division, Joshua knows that anyone he fights could have the power to knock him out, particularly if his next opponent is someone like Tyson Fury or Deontay Wilder. At the same time though, stars can quickly dim in boxing if a fighter is seen to avoid challenging opponents. How Joshua treads this tightrope will be a challenge for his promoters, trainers and sponsors.
For more information about how SPORTS MARKETING SURVEYS INC. can help your business, please contact ed.willis@sportsmarketingsurveysinc.com or visit the company website www.sportsmarketingsurveysinc.com