A new report has been branded a "wake-up call" for employers and male colleagues after it identified that less than 1% of women working in the sports industry consider it a gender equal environment.
The warning comes from the Women's Sport Collective's Sue Anstiss MBE's foreword to The Voice of Women Working in Sport. The new report was produced by Sporting Insights and aims to put the lived experiences of women working in sport into the spotlight. It examines the experiences women had when entering the industry as well as their current perspective on gender equality in the sector and their experiences of progressing their careers in sport.
The opportunity to work in sport, the report concludes, can be and is a source of pride, privilege, and empowerment for women across the industry and can offer opportunities to fulfil passions and make a difference. However, too often those feelings are undermined by "inequalities in terms of job opportunities, development and pay."
Based on an online survey of more than 800 women working at all levels across the sports industry, the report identified a number of stark and striking findings, including: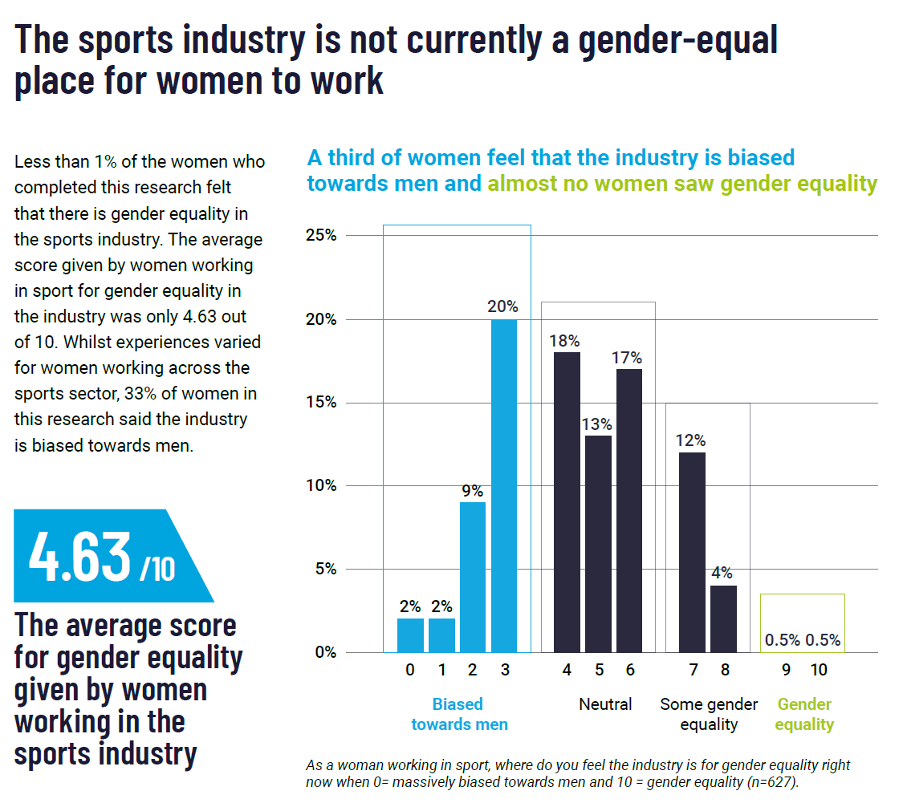 While Sporting Insights identified a number of actions that women can take during their careers to help overcome the odds such as building an authentic network of connections and not behaving like men to succeed in sport, the onus should not be on them alone. In fact, to sustain and grow a more gender-diverse workforce, there is a need for businesses to tackle this issue head on. To help organisations make a start, nine key goals and targets are identified in the report, covering system improvements and support for women entering and already working in sport.
Hannah Sprake, who leads Sporting Insights' work in community sport and who managed the research, urged everyone across the industry to take note of the real-life experiences women face working in sport. "I don't think many of the themes raised in this report will be a surprise to people, but what I hope people take note of are the stark figures our research has attached to these issues and the constructive recommendations for action. This research has given us a yardstick to measure future improvements in gender equality in the sports industry as we plan to make this an annual survey".
To enquire about a sport specific study focusing on gender diversity in the workplace, please contact us today.
To download a free copy of the full report, please click here
For more information about the data and insights shared in the Voice of Women Working in Sport report, or to talk to us about being part of our next annual survey and future research on the topics raised in this report, please contact Hannah.sprake@sportinginsights.com
About the Women's Sport Collective:
The Women's Sport Collective is an inclusive, collaborative network for women working in the sports sector with an ambition to see a gender equal sports industry. This not-for-profit network provides a range of opportunities for women, at any stage of their career, to network, learn and empower others.
The support of Sky Sports, the presenting partner, means that membership of the Women's Sport Collective free of charge to all women working in sport.