"Cyclists see considerably more of this beautiful world than any other class of citizens. A good bicycle, well applied, will cure most ills this flesh is heir to."
So explained New York Dr KK Doty in the 19th century. Today, that old idea of cycling as a cure is finding new acolytes across Europe.
The UK has been exploring social prescribing since 2018. The practice, which aims to boost individual wellbeing while reducing the burden on health services, involves referring people struggling with certain mental and physical health complaints to a link worker who in turns connects them to groups and services in their area. Social prescribing has already seen Doctors recommending surfing, dancing, running and cycling among a range of activities. Now, an expanded social prescribing trial in eleven local authority areas in England will see £12.7m invested through to 2024 to enable GPs to specifically expand the range of active travel support on offer. Services including free bike loans, adult cycle training courses and joining local walking groups will be recommended in the eleven areas.
Across the world the idea is gaining traction with governments urgently seeking to inspire and incentivise people to become more active more often. To date, although the health benefits of cycling have been used as justification for more traditional cycling investment, for example in the Netherlands – where public health benefits have been estimated at €19bn – and France – where a new €250m fund is promoting cycle use in rural areas in order to improve health and support the energy transition – investment has not generally been tied in with direct healthcare.
Now, that is beginning to change. Similar social prescribing programmes have explored in at least 17 countries worldwide, including in France, Denmark, the Netherlands, Sweden, Ireland, Portugal and Germany. Many of these have, like Denmark's Kulturvitamin scheme, have focused on the arts as a way of boosting participant mental health. Investment in active transport will surely become a focus, especially if success can be proved.
UK Government statistics indicate that "Unfortunately our population is around 20% less active than the 1960s", with potential to be "35% less active by 2030" if current trends continue. With physical inactivity associated with 1 in 6 UK deaths and estimated to cost the UK £7.4bn every year, the scale of the issue is clear to see. And while nobody is claiming that this is going to solve every challenge faced by those currently struggling to access the NHS or that a £12m investment will transform things overnight, it does indicate a step in an important direction.
Active Travel Minister and Olympic Gold Medal winning cyclist Chris Boardman says: "Moving more will lead to a healthier nation, a reduced burden on the NHS, less cancer, heart disease and diabetes, as well as huge cost savings. This trial aims to build on existing evidence to show how bringing transport, active travel and health together can make a positive impact on communities across England."
At Sporting Insights, using analytics to inspire a more active world is central to everything we do. And we passionately believe, through our personal and professional involvement with the sport, that cycling is more than a physical health cure. This cheap drug can also transform the mental and social health of communities.
The pandemic accelerated several trends –  putting many people on bikes for the first time and also reinforcing the value of fresh air and the great outdoors. In a pan-European consumer study conducted by Sporting Insights on behalf of Cycling Industries Europe (CIE), "to enjoy being outside" was the most common motivation for cycling in the pandemic. Health and exercise benefits were number two, both significantly higher than reducing the risk of catching the virus or to avoid crowded environments. Significantly, as Europe faces up to rising gas and petrol costs, those two factors were also much more important than saving money on travel costs.
In a separate question, more than 75% of a panel including both cyclists and non-cyclists across Europe agreed that cycling allows them to enjoy some fresh air and is good for one's mental health.
Recent UK based research carried out by Sporting Insights in partnership with Raccoon Events highlighted that cyclists at least are very aware of the positive impact the activity can have, even if there is still some education needed among those who do not take part.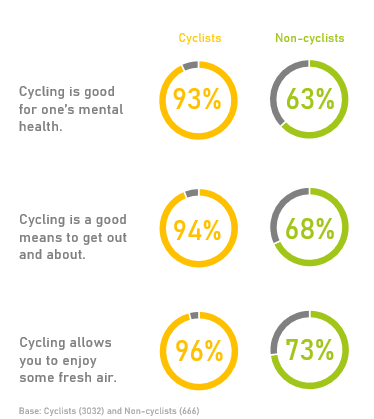 While further research is required to prove causation and other factors – including higher disposable incomes – are likely to be at play too, it does stand to reason that something that speeds up commutes, gets people active and lets them enjoy fresh air and time with friends should have a positive impact on mental health.
Quantifying and promoting the full power of cycling's mental and physical health impact will mean looking not just at traditional surveys but measuring happiness against cycling occasions, building on more granular bike count data produced by our partners for example. It will mean listening to medical professionals and looking at government data as trials like social prescribing are rolled out further and further.
Inspiring a more active world will also require close commercial analysis. Our clients' success and strong performance is what will enable them to invest and innovate, helping to build the products, services, and initiatives that get bums off seats and into saddles around the world. That is why we are delighted to work with cycling clients on a bespoke basis to help them create competitive advantage while also supporting the wider industry with collaborative projects that provide knowledge and boost sales for all. Through our work on the Bicycle Association Market Data Service, Powered by Sporting Insights and through our research on behalf of CIE, we are pleased to be playing our part in generating data that is being translated into powerful advocacy and lobbying for the cycling industry, which for so long played second fiddle to others like automotives in terms of the breadth and robustness of its data.
Sporting Insights uses diverse data streams to solve clients' challenges and deliver strategic insight. To understand how we can help you, please contact our Head of Cycling, Marc Anderman.