Strong May and June playing figures prompted the average number of rounds played per course in Great Britain to rise by 4% in Q2 2023 compared to the same period in 2022. The half-year average is now 2% up year-on-year. After slight annual drops in three of the four regions measured in the report during April, May and June, both of which were sunnier than average, saw increases around the country. The Scottish picture is particularly promising, with rounds played north of the border up 13% compared to Q2 2022, with monthly growth above 10% year-on-year across the quarter.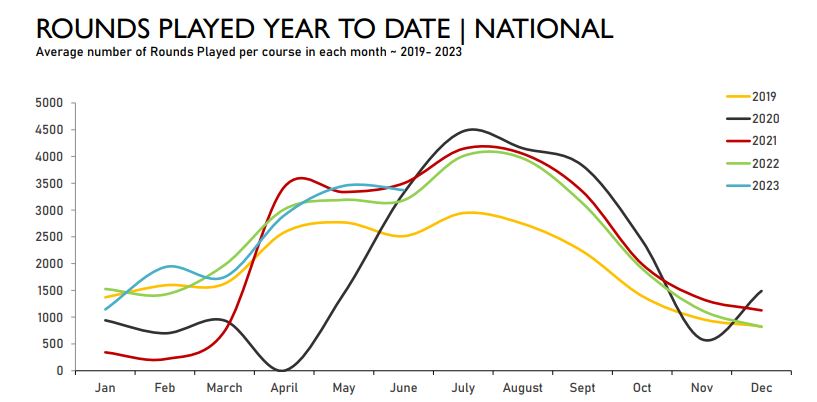 The good news follows the release of The R&A's latest global participation research, conducted by Sporting Insights, which calculates than an extra 10 million adults worldwide* are playing 9 & 18 hole golf compared to 2016. In percentage terms, that represents an increase of 34% since 2016 and 15% since 2020. Including alternative only formats of golf – such as par 3, indoor simulators and driving ranges – there are 61.2 million adults who engage with the sport in some format.
"We shouldn't take this success for granted," noted Richard Payne, Director of Sporting Insights. "As our latest multi-sport participation research shows, not all sports have enjoyed the same success as golf in keeping the new pandemic participants playing and playing more often. Weather does of course continue to play a role too, and while this report measures on-course rounds only, that ongoing link is a reminder of why it's so important for golf to measure and maximise both traditional and alternative playing opportunities, so that people can remain engaged in golf even in inclement months."
Since 2000, Sporting Insights has tracked rounds played at commercial golf courses across mainland Great Britain.
Sporting Insights also has an ongoing partnership with The Revenue Club to investigate booking channel trends from the 140 clubs that they work with.
For more information or to purchase the full report, contact Richard Payne
*The R&A Global Golf Participation Report measures participation in all R&A jurisdictions worldwide – Mexico and the USA are excluded.