After a sluggish start to the year, 2023 rounds played across Great Britain remain well clear of pre-pandemic numbers, in the latest sign that golf's pandemic participation boom has reset the baseline appetite for the game. Only January of the first nine months of the year saw a dip against 2019 figures, while the remainder of the year has so far seen 2023 track and often exceed the booming totals seen outside lockdowns during the period 2020-2022. September was the quarter's strongest performing month, both against 2022 (up 10%) and against 2019 (up 55%).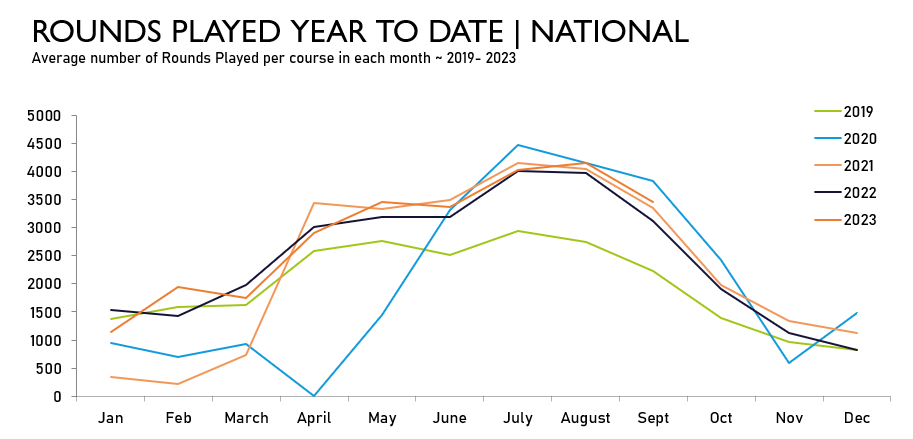 Quarterly rounds played across Great Britain were up 5% compared to Q3 2022, pushing the year to date total 3% ahead of 2022. The year to date average of 2910 rounds played per course per month means there are 646 more rounds per course per month being played, or an extra of 21 more people per day.
Continued congratulations for such a strong and consistent growth in play frequency should go to everyone involved in the sport, including to the clubs and their teams who are clearly successfully engaging and retaining golfers of all standards. Praise should also go to governing bodies, with initiatives like the iGolf, Openplay and Flexigolf schemes for independent golfers in England, Scotland and Wales respectively also bearing fruit in providing routes for non-members and newer golfers to track improvement and access competitive golf, helping those people to stay in the game. 2022 figures from England Golf showed that only 6% of iGolf subscribers had previously been golf club members, while the average age of the scheme users was younger than golf club members.
Since 2000, Sporting Insights has tracked rounds played at commercial golf courses across mainland Great Britain. For more information or to purchase the full report, contact Richard Payne.