The make up of bags at the men's majors in 2021 shows subtle changes in how players approached the challenges of the different events.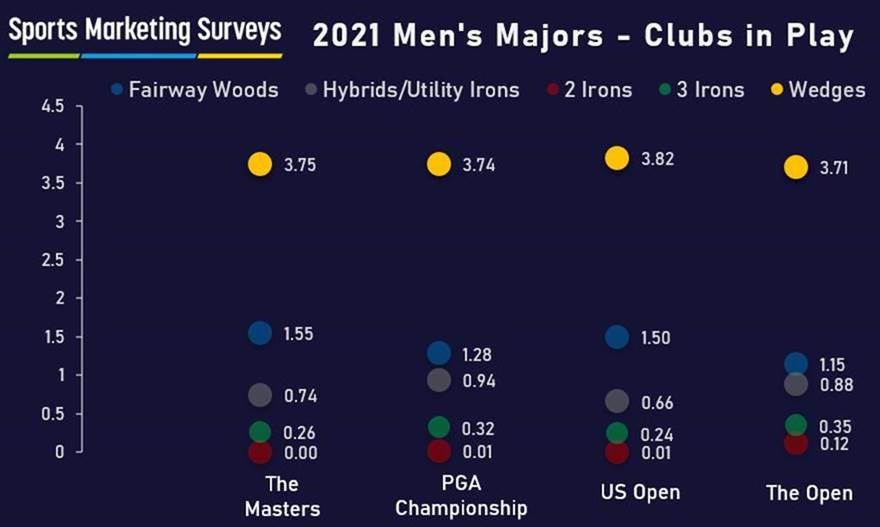 The Masters, where fairway finding is key, saw the most fairway woods per bag, with players carrying an average of 1.55 fairway woods.
This compares to The Open, at the other end of the spectrum with 1.15 fairway woods per bag. Played on a dry and sunny Royal St George's, players were more likely to prefer the lower trajectory of irons, both off the tee or when playing long approach shots. Golf's oldest major was the most likely to encourage players to put a 2 iron or 3 iron in play.
The US Open at Torrey Pines put a premium on wedge play, resulting in players carrying more wedges on average (3.82) than at any other major in 2021. Players also favoured fairway woods at a course measuring 7,700 yards.
By contrast, hybrid usage was highest at the PGA Championship, although interestingly, golf's oldest Major champion, Phil Mickelson, did not use a hybrid in his winning bag.
John Whyte, who leads SMS' Tour Census team, commented: "Players at this level know how important it is to get their bag setup correct. It's not uncommon early in the week to see players experimenting with different options as they plan how they are going to approach the tournament. Course distance, fairway tightness, rough length, weather and form all play a part in the final choice, which can often be what makes the difference at the crucial moment."
Sports Marketing Surveys is the official equipment census provider to the European Tour. It provides a count of playing equipment (including clubs, balls and shafts, and occasionally additional information like apparel, sunglasses and rangefinders) to brand and model level at every European Tour and co-sanctioned event, enabling clients to make sponsorship decisions and marketing claims.
Data for the three US based majors has been kindly provided by The Darrell Survey.