This interview is taken from Golf Business Quarterly, April 2023. It can also be read in its original format here.
His company's numbers inform and educate the golf industry and beyond. Sporting Insights' managing director explains how his lifelong love of golf resulted in a dramatic change of career and why the greatest influence on his professional life has always been his father
Unsurprisingly for the managing director of a leading sporting research company, John Bushell loves numbers. They pop up in all parts of our conversation. His recall of dates from decades ago is faultless and he likes to have a bit of fun with them – one of his favourite current stats is that the collective handicap of the four members of his family adds up to 10.0. "One round away from single figures," he quips. Bushell's contribution is a Handicap Index of 2.6. Another nice stat is that he has so far recorded 14 holes-in-one. His taste in golf clubs – he plays at West Sussex (Pulborough) and Worplesdon – is as good as it is in heroes with both Seve and Jack also weaving their way throughout the chat
Bushell moved to Scotland when he was 10 having spent his early years in Northwich in Cheshire before his father's work took them to Aberdeen. From an early age, golf was an ever-present, his parents met on the golf course and Bushell took up the game at Sandiway in Cheshire when he was just seven. At the age of 10 he would visit his first Open at Royal Lytham & St Annes when he ducked under the ropes and walked the length of the 18th with Jack Nicklaus's arm around him. "I got his autograph and my parents tell me that I didn't wash my shoulder for some time." He joined Royal Aberdeen where he was taught by Ronnie MacAskill. He was educated in Scotland before gaining a place at Cambridge. "I had no idea that I would be going to Cambridge, I thought that I was going to Nottingham to read Industrial Economics, but I somehow pulled out some amazing results and I had a handicap of three and this was at a time when universities thought doing something else was good. So, I spent three years playing college sports and lots of university golf. I did a Geography degree which had quite a bit of numbers and logical argument stuff and I got a golf Blue when I played Oxford at Rye in 1985 and again at Ganton in 1986." His LinkedIn bio reads: 'Enjoyed life at Pembroke to the full. Actively involved in all sport, the academic element of the three years was important but perhaps not prioritised enough.'
From Cambridge, Bushell joined Unilever as a management trainee, where his first role was at the Port Sunlight factory on the Wirral.
"I joined Royal Liverpool which was fabulous. There were a whole bunch of people straight from university working for Shell, Lever Bros or ICI and we all lived in Chester and had great fun and played golf at Hoylake."
A potted history of the next few years includes a move to Unilever's Kingston office where he qualified as an accountant which he soon realised wasn't for him but he did 'have a good head for numbers'. He then moved into sales and national accounts and, from there, he was headhunted by SmithKline Beecham where he ran the Macleans toothpaste portfolio.
It was around this time that his wife became pregnant with their first son, Tom, who, after a health scare, arrived safely while Bushell's interest in golf would soon go on to new levels.
"When I was on a Unilever course we were asked who we most admired in business. Everyone replied the usual well-known names, like someone running Jaguar, and I said my father as I knew that the business that he was running was done with such integrity"
Entering the Golf Industry
"I remember thinking what am I doing working in gum health and
gingivitis? I saw an advert in a magazine called Golf Weekly for a marketing manager for Ben Sayers and ProQuip. I sent off my CV to Mike Johnson-Hill, who would go on to become chairman of Galvin Green, and I got the job in January 1997. I loved all elements of sport but I didn't know how to do it professionally. I did love brands having worked at Unilever and SmithKline. I had done 11 years of brand work and fast-moving goods training before I joined the golf industry so it wasn't like I went straight in."
In 1997, the Ryder Cup was being held at Valderrama in Spain and captain of the European effort was their talisman of many years and everybody's hero, Seve Ballesteros. ProQuip would provide the home team with their waterproofs and Bushell would get to work with his boyhood idol.
"I had got Seve's autograph at the Double Diamond tournament at Gleneagles in the 70s and he and Jack were my golfing heroes.
The production director and I presented the suit to Richard Hills and team at the European Tour and got the sign-off. It was a new fabric which became the Ultralite range for ProQuip and we only had two colour ways; midnight blue, which was Seve's colour, with yellow-gold highlights around it which was the European colours. If he didn't like the colour we were in trouble as it was so new and almost the first full run off the production line. It was a very lightweight and single-skin waterproof. It poured with rain that week and Europe won, so it was a huge success for ProQuip."
Ben Sayers and ProQuip were originally part of Grampian Golf before becoming the Caledonian Golf Group where Bushell was the marketing director. Another ground-breaking venture included the launch of the Srixon golf ball into the UK. Bushell would travel to their headquarters in Kobe in Japan and, before long, one of the game's best-known ball brands was born.
"Mike (Johnson-Hill) and I travelled to the Sumitomo Rubber Industries – the name Srixon comes from that (SRI), the 'X' stands for the future and 'ON' is Japanese for going forwards. They produced the Dunlop ball at the time and an earthquake knocked over the ball factory so they had to move  production to Pennsylvania and the quality of ball was not so good. When Kobe was operational again, my understanding is they launched the New Breed ball in Japan and, once they were confident enough, they branded it as Srixon.
"We did the licence with Sumitomo to launch it in the UK at the end of 1997 and that was the start of Srixon. They came up with the Hot Face drivers so every time anyone sold a driver a commission was paid to Srixon and that allowed them to develop the funding of the ball."
By mid-1999, the Caledonian Group, which had also added Glenmuir to its roster, wanted to close its office in Surrey and move to Scotland. Bushell, with a second son, Henry, on the way, decided to stay south and become the head of marketing and commercial affairs at English First Division Rugby (EFDR) which helped develop the strategic direction of professional rugby – and which John launched as Premier Rugby in the summer of 2000. While there, Sports Marketing Surveys would do the research and their owner, Stephen Proctor, asked if we would like to come on board. Sports Marketing Surveys became Sporting Insights (see opposite/ below/above) after a company refocus last year. There has been an expansion into Asia, with an office in Singapore to develop the golf market there, and the development of new areas of insight such as female sporting engagement, while continuing with its core sports of golf, cycling, tennis, outdoor and running. As well as offering the surveys and market research that the company is renowned for, their teams now produce customer-focused insights to help their clients make better decisions and evidence-based actions, hence the new company name. "We have invested significantly in technology to enable us to produce and manage data more effectively. We bought a data visualisation company called Culture of Insight, which enabled us to create interactive reporting dashboards in-house, so, rather than producing big, weighty documents which requires the client both to read through carefully, and also remember where to file! We can now supplement our recommendations and executive summaries with user-friendly, intuitive online reporting tools where the user can drill down into results. Everything is visual and easy to understand. "All the data is still behind it but we are trying to be more than just a provider of data – we want to provide insight and recommendations and be more involved with clients. So there is more emphasis on more client-specific work rather than syndicated studies." The company employs 18 staff, most of them full-time, with a very low turnover. Fifty per cent of the staff are female and their work involves big companies to small start-ups. When asked what type of boss he is, a colleague replied: "John's very approachable and he won't ask anyone to do anything that he wouldn't do himself."
On the Covid Effect 
We have to be careful how we phrase this but participation in golf has certainly benefited from Covid. It was one of the first sports to open again in May 2020 and people who would do other things with their time suddenly found that they could play in a bubble and families played together. We went from 3.1 million participation on full-length courses in 2019 to 5.2 million the following year. Female participation went from 15 to 20 per cent and, of those, 25 per cent were new to golf, so suddenly we had this massive increase. Prior to 2020 the height of participation was 4.1 million in 2007 and now we were at 5.2. We always expected a downturn when everything opened up, but 2021 was 4.8 million so we lost 300,000, but that was still a big spike from 3.1 million prior to Covid. The R&A have done a lot of investment into the game to get more people to play more often and come together – and this is definitely working – and the focus on the physical and health benefits of the sport are really motivational. However, in this case, the upturn in participation is not a direct result of what the golf industry has done to grow the game. Covid created an opportunity that so many other sports didn't have and our challenge now is to make sure that the sport is fit enough to ensure we don't lose those new people to the game. I wasn't envisaging 2022 showing too much of a drop – one reason being that people have enjoyed the benefits of it and continued playing even though they might not be playing as regularly. In 2023, we may see fewer members and more independent golfers – but then again demand for a 'sporting home'. which is what a club can be, is strong
On Inspirations
My former chairman Stephen Proctor, who passed away in November 2021, was really inspirational. He bought Sports Marketing Surveys six months after it had been set up in 1984. He was a lawyer by trade and the family had invented the seatbelt. There was a sad story to this. He was an England international golfer, he captained Oxford in the famous match against Ted Dexter's Cambridge, and he qualified as an amateur to play in The Open. But he never actually played, as while a passenger on a business trip in Sweden, he had a car crash in a two-seater sports car. The irony is that the car did not have seatbelts. He couldn't play golf without using a buggy for years.
I joined him in 2000 and he was always a very good mentor with a very good brain. He would always say 'yes' to something and then work out how to do it. I always remember him saying that your integrity is your brand reputation, damage it once and you're done. And I hope that anybody who you speak to in the business thinks that I'm a good person to work with and that they can trust me. I have picked up skills from various companies; Ken Allen was magnificent at sales at SmithKline Beecham, he's now at Diageo and he was someone who really knew numbers, but Stephen was certainly the most  influential
Becoming Sporting Insights
When we did the management buy-out in 2011, the trading company was Sports Marketing Surveys Inc. We didn't want to lose the legacy of SMS but, as  the businesses evolved, we  were doing a lot more surveys. It's not just a name change. For a long time, we have offered a lot more than surveys in terms of the variety of techniques we use. And for even longer we have provided not just data but insight that responds to our clients' key challenges. Somebody introduced me in front of a conference as being from Sports Marketing Services so I hadn't done a very good job if one of our good clients couldn't get our name right! These days we are doing so much more than surveys and Sporting Insights is what we do – we provide insights to the sports world – so we agreed the re-brand prior to Stephen Proctor's passing. Then we didn't want to change it too quickly as we didn't want to look like there was any lack of respect. We agreed when to announce it with the family and re-branded things in September 2022.
A few months in, it has gone better than we expected. We have the same colour scheme with green, blue, gold (grass, water, sand), which fits in with golf, which is where the business is originally from but with a new positioning of 'Analytics to inspire a more active world'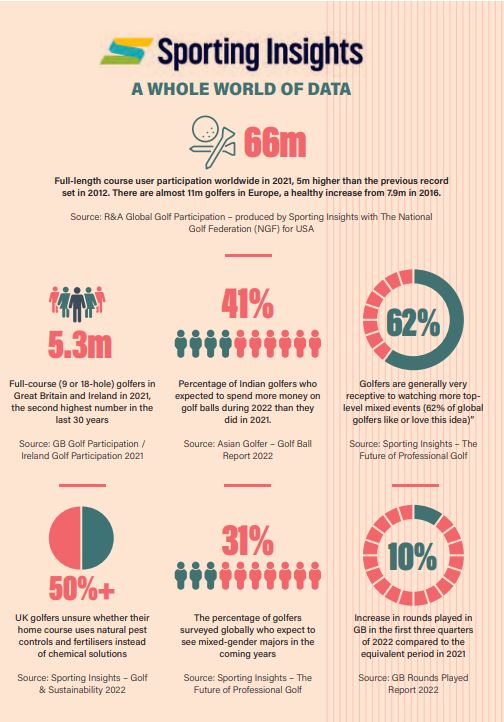 Bushell remains as buoyant and excited about the future as ever, 20-plus years after joining the company. "It's fun and it's a passion. We adore what we do and we really get a buzz out of helping people in the sports world make better decisions. I really do hope and think that I'm approachable. We have people who have huge technical skills that I don't have so I will bring them to the front but they will know that I've got their back." Much of Bushell's approach, you suspect, is down to watching his father go about his business when he was a youngster. "When I was on a Unilever course we were asked who we most admired in business. Everyone replied the usual well-known names, like someone running Jaguar, and I said my father as I knew that the business that he was running was done with such integrity. They looked after 80 per cent of the plaster board market in Europe and, if I could behave the way that he did, with calmness and integrity, then that would be a great asset. I have not got it right – but I do keep trying. Like golf, you can get better with age"