March 2021 sales in US core channel grew +132% vs March 2020
Exactly one year ago core retailers were recovering from an April that saw a roughly 80% year-on-year (YoY) decline. April 2020 was arguably the most difficult month the surf and skate industry has ever had to endure. Retailers and brands alike were navigating local government mandates regarding store closures, implementing reopening measures, launching curb-side pickup services, conducting concierge shopping, beefing up on-line offerings, furloughing employees, and deciding what they should do about future orders. At the same time they were wondering if and when their PPP funding would finally arrive.  Fast forward one year and the biggest current concern is having enough inventory to meet the seemingly insatiable consumer demand.
The one consistent trend since June of 2020 was that anything related to hardgoods and wetsuits grew at unprecedented rates. In some months, these categories enjoyed more than 100% YoY growth. However, the soft goods categories slowed down the overall momentum as they declined -15% from 2019 to 2020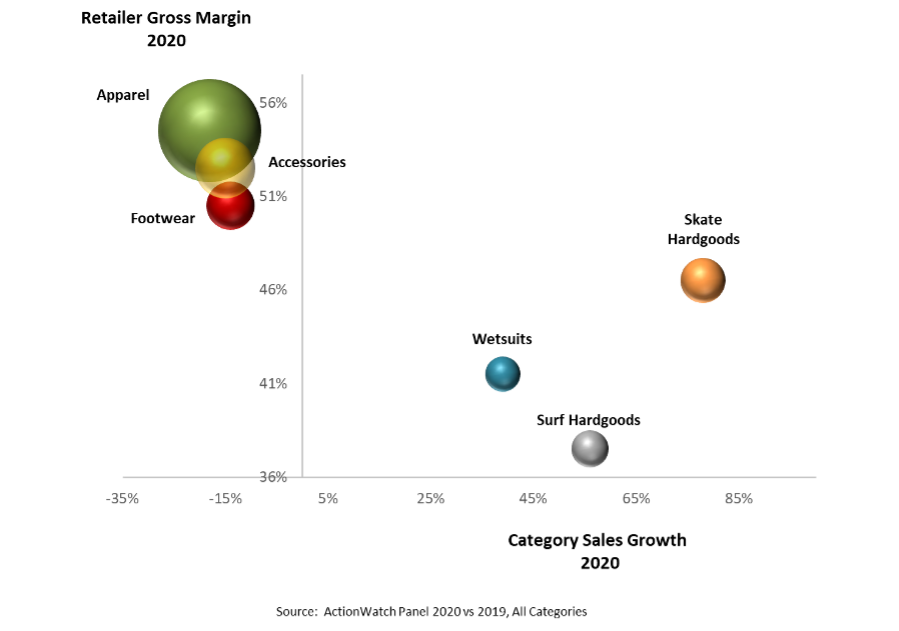 Source: Same-Store ActionWatch Panel 2020 vs 2019 All Categories
Those trends carried over to the first two months of 2021 as supply chain challenges caused otherwise strong sales to plateau. As a result sales figures were comparable to January and February 2020. Then came March 2021.  Sales exploded, growing by +132% compared to March 2020. Even compared to March 2019 sales grew an astounding +37%.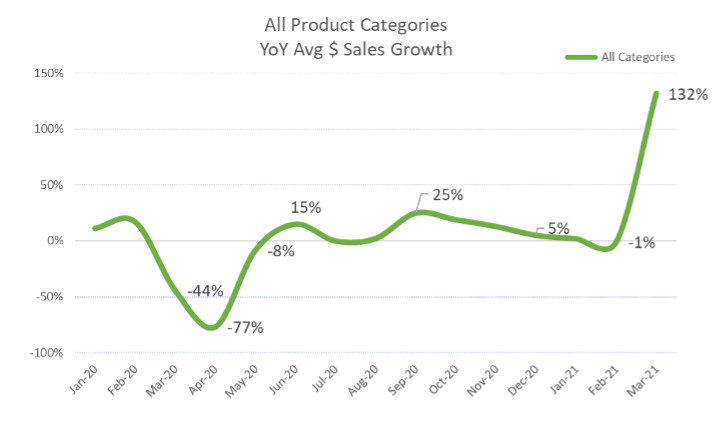 Source: Same-Store ActionWatch Panel 2020 to YTD March 2021
The 2021 March numbers are especially encouraging because the higher margin soft goods categories achieved very robust growth numbers. Across the board we recorded higher margins than we typically see, especially for apparel. And in wetsuits, where margins have not been higher than 42% since 2007, retailers secured 46% margins.
April 2021 will dwarf March 2021 performance
We will undoubtedly see even higher YoY growth numbers for April 2021 sales since April 2020 sales declined by -77%. Given the extraordinary participation increase for both skateboarding and surfing it will be interesting to observe the performance from May on forward. It would not be surprising to see robust growth for the remainder of the year, but certain months have very high comparable growth numbers (+15% June '20 vs June '19 and +25% September '20 vs September '19). So there may be some months that show little to no growth.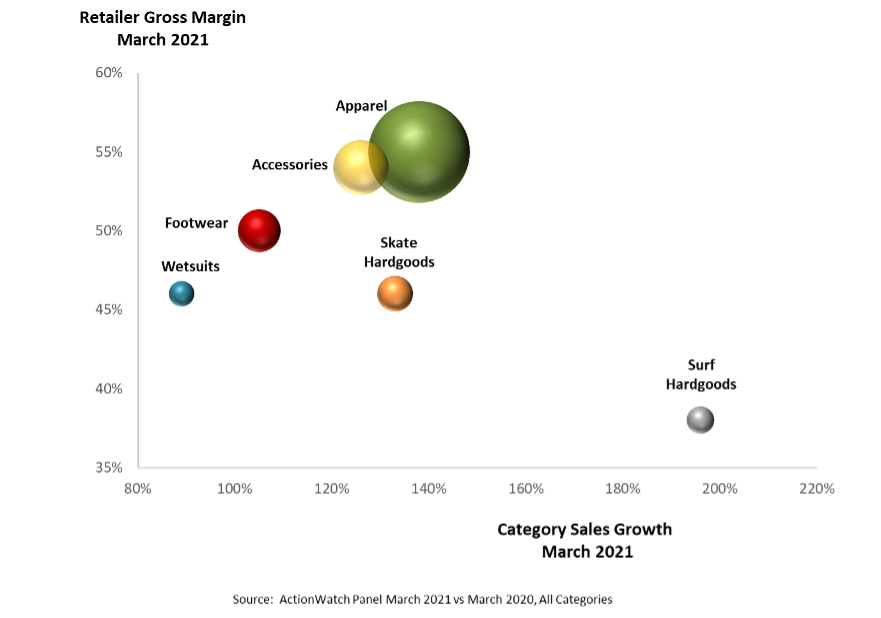 Source: Same-Store ActionWatch Panel March 2021
The conditions for stores reopening in May and June of 2020 represented a perfect scenario for the core channel. The combination of closed mall stores, consumers with extra time on their hands, and a desire to engage in social distancing appropriate activities caused a dramatic increase in the number of skateboarders, surfers, bodyboarders, stand up paddle boarders, skim boarders and wakeboarders. This increase in participation fueled an unprecedented, insatiable, and seemingly ever-increasing demand for the equipment needed to participate in those activities. The additional disposable stimulus income combined with the desire to support local stores gives the industry continued cause for optimism.
Apparel & footwear growth finally closing the gap to surf and skate hardware
February 2020 was the last time the soft goods categories performed anywhere near the levels of the hardgoods categories. It was critical for the apparel categories to return to pre-Covid growth levels not only because they are larger, but also because they carry much higher margins. While we expected strong sales for March 2021 we did not anticipate the hockey-stick acceleration across most categories.

Source: (C) 2020 Physical Activity Council (PAC Study). The PAC study is the most comprehensive study of sports participation in the USA, conducted by Sports Marketing Surveys USA – contact info@sportsmarketingsurveysusa.com for more details.
Outlook for the remainder of 2021
The core surf and skate channel experienced a V-shaped recovery and explosive hockey-stick growth within the span of 1 year. Considering the participation increase for skateboarding, surfing, and other water sports, it is highly likely that the consumer demand will continue to strengthen in the core channel. Brands and retailers have done an excellent job with connecting to the new and returning entrants and by keeping them engaged in surfing and skateboarding. This engagement, in turn, continued to fuel consumer spending in the stores. Our preliminary data shows that the April 2021 performance will overshadow the March numbers, even compared to April '19. This is a much more relevant comparison given that many stores had almost no sales in April '20. However, May and June will be more telling whether this boom will last beyond the spring season